Congratulations! You have just been made a Fellow with the European Society for Magnetic Resonance in Medicine and Biology (ESMRMB), what does this mean to you?

As an MRI physicist and with 25 years' experience in the field, I feel flattered and privileged to have been made a Fellow of the ESMRMB. This

Society

is close to my heart- I have spent many years at the helm of that Society and learned to appreciate the camaraderie and amazing scientists herein.
Tell us about GSP, would you say that this had anything to do with getting this Fellowship?

Gold Standard Phantoms (GSP) was founded to provide a solution to the lack of governance in MRI quantitative medical imaging, particularly in MRI. People weren't really aware of the particular need for it and a company that focused on the development of quantitative and reproducible medical imaging didn't exist, so I saw an opportunity to develop phantoms with the purpose of relating the measurement from an MRI scanner to a ground truth, i.e., a gold standard.
With regard to the ESMRMB

Fellow

ship, well according to the president of the nomination and awards committee, Marion Smits,  this reward was partially attributable to "my drive in bringing novel technologies from the bench all the way to clinical practise", which is indeed what I tried to do with GSP.
Wow, and how did it all started?

Due to my long-standing interest in arterial spin labelling (ASL), we first worked on developing a dynamic phantom with a reference flow measurement which can potentially be traced back and compared with what we can do inside an MRI scanner.
….And what was this MRI phantom called?
Well, we thought that we were very funny, and we named the ASL phantom 'QASPER' after the very well-known cartoon character.

QASPER

is short for Quantitative ASL PErfusion Reference
Since the development of the QASPER phantom, GSP has evolved to developing MRI quality assurance phantoms such as the Functional MRI (fMRI) phantom, named FUNSTAR (FUNctional STability Reference), following the approach of an Italian group of researchers looking to conduct fBIRN tests to assess the quality and stability of fMRI measurements across their institutions. Not only did this fit well with GSP's ethos at the time but, in parallel, resonated with my PhD involving the set-up of functional MRIs in Zurich back in the 90s.
And we did not stop there! We also developed another phantom, called SPECTRE (SPECTroscopy REference), keeping in line with 'spooky' names, and actually originally NOT a reference to James Bond novels and films, even if I am a huge fan. This also came through a request, this time from a Contract Research Organization (CRO) asking to produce 30 phantoms from the same batch, leading us to mix large amounts of metabolite solution in a proper cauldron.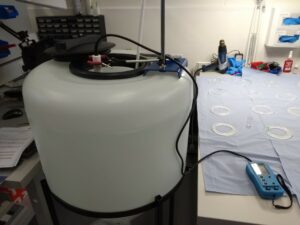 Cauldron full of metabolite solution, having its pH measured!
Are there any last words you would like to say?

Please stay tuned to hear more about how GSP continuously develops new products and calibration devices for quantitative and reproducible imaging. Also, with Halloween around the corner, we'll be dedicating our next blog to our QASPER and SPECTRE phantoms as well as others with a special discount code to these spooky phantoms, so make sure you follow us on social media to find out more!